This is a brief tutorial on a product to your K2 Mart store. First off, what is K2 Mart? K2 Mart merges two very popular Joomla extensions, VirtueMart and K2. VirtueMart is probably the most popular shopping cart component for Joomla. K2 is a component that gives you some added functionality and great design for your content items. K2 Mart combines these and gives us a way to make the product pages more attractive to customers and in my opinion the products are easier for you to enter in Joomla.
We add products using this method just like we add a standard content item with K2.
To start out we need to go to our K2 Items: Log into the Joomla Control Panel. Go to Components -> K2 -> Items OR Click on Items in the quick launch area of the Administrator home page as seen below.
Note: Feel free to click save in the upper right corner at anytime. Save and close will save and take you back to the article list, save will just save and refresh this item detail page. Saving frequently is better than loosing info if you walk away and get timed out or your computer acts up.. it happens.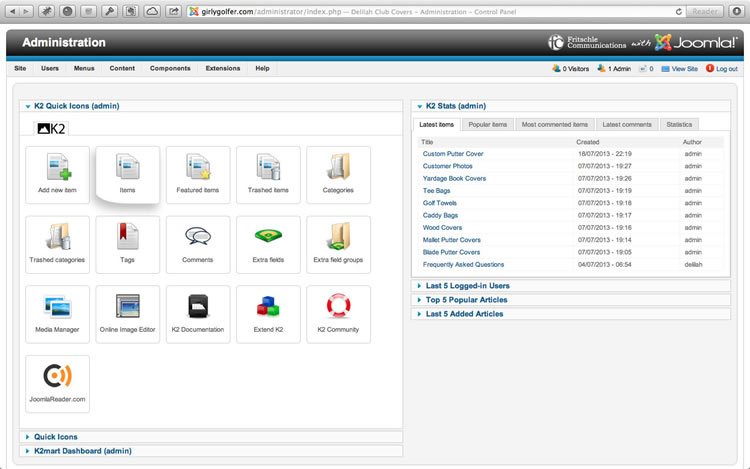 On the Items page, click new in the upper right area as seen below.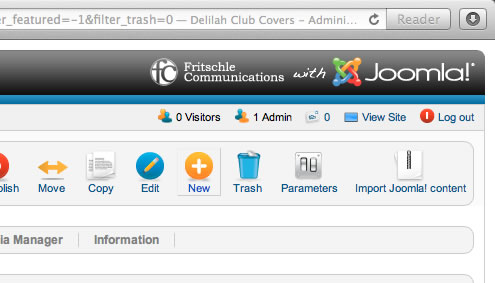 Now enter the product information.
Title: Product Name
Title Alias (URL): Skip this it will be automatically generated
Category: Select a category
Tags: Optional. Enter tags, seperate tags by pressing "return" or typing a "comma". If you use tags make sure to keep them consistent.
Content: Enter the description in the content tab below as shown.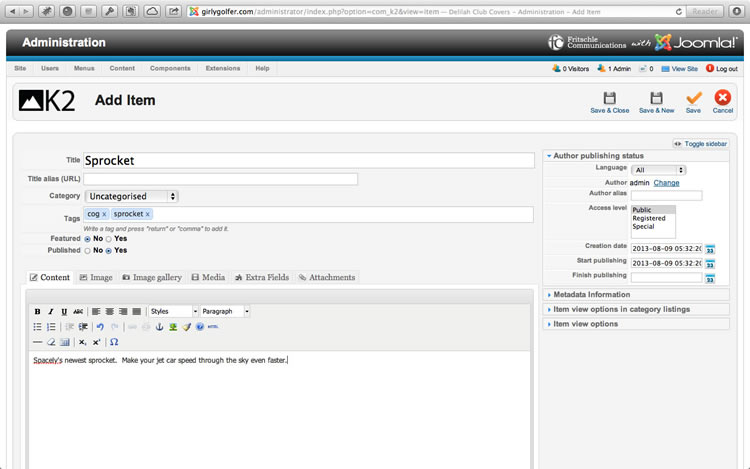 You will notice the tabs: Content, Image, Image Gallery, Media, Extra Fields, and Attachments.
Content Tab: See above.
Image Tab: Main product image. Click on the tab. Click choose file.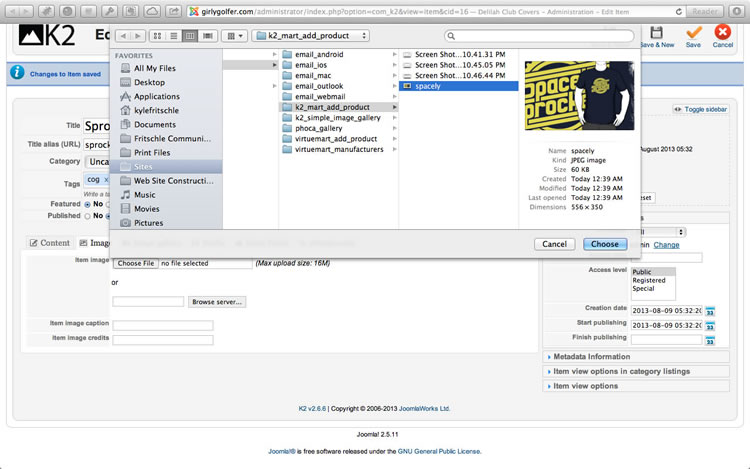 Image Gallery Tab: Additional product images. Click here for instructions.
Media Tab: Add videos to the article.
Extra Fields: Custom fields can be set up for articles. Enter the data for these extra fields here.
Attachemets: Add PDF or other attachments to the article.
Now its time to enter the product details. Below the content and tab area discribed above is the pricing tabs: Product Information, Product Price, Product Status, Product Custom Fields, and Product Deminsions and Weight.
Product Information Tab (Pictured below).
Product SKU: Enter your SKU. If you don't have one I'd recommend creating a unique SKU. Here is an eHow article on the subject.
URL: Feel free to SKIP
Manufacturer: If you are running a store with multiple manufactures it would be a good idea to create manufacturers in VirtueMart. Click for instructions on adding a manufacturer. Once you have created them you just select the appropriate one from the drop down.
If you are selling your own product, SKIP.

Parent: If this is a child product you can list the parent. In most cases this won't be necessary and you can SKIP.
Shopper Group: If you have multiple shopper groups and you want a product to only display for one shopper group, you can select it here. You enter shopper groups in the VirtueMart Component page.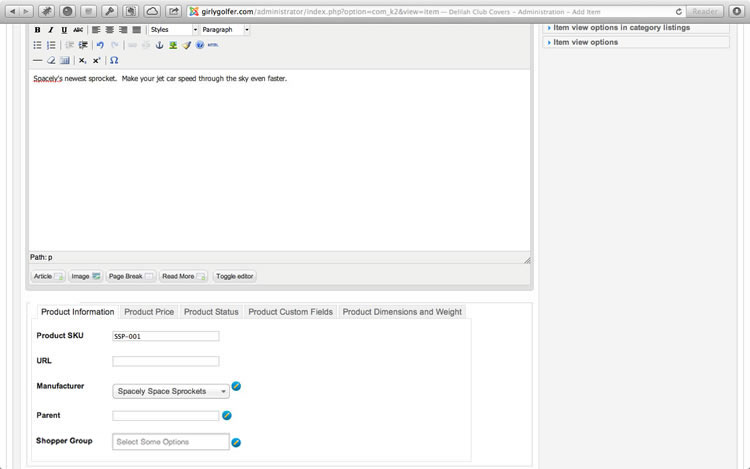 Product Price Tab
Click "Add New Price"
Cost Price: You can typically leave Cost Price blank (reasoning in final price), make sure you select the appropriate currency if USD isn't automatically selected. The cost price can be different from the final price below if you want it to be.
Base Price: SKIP under most circumstances.
Final Price: Enter the final price of the item for the customer.
Calculate the cost price: Mark this box and when you save it will take the final price and copy it to the base price and the cost price.
You'll notice more options below the Calculate the Cost Price checkbox as well as another "Add New Price". The remaining options I'm not going to talk about because they won't be used in most cases. You can set quantity pricing or pricing for specific time period, etc. If you have any questions regarding these options let me know.
Product Status Tab
In Stock: Enter the number of items you have in stock. This is optional but of course necessary if you have a limited number of the product.
You will notice more options below the In Stock box, I'm not going to discuss these at this time. If you have any questions let me know.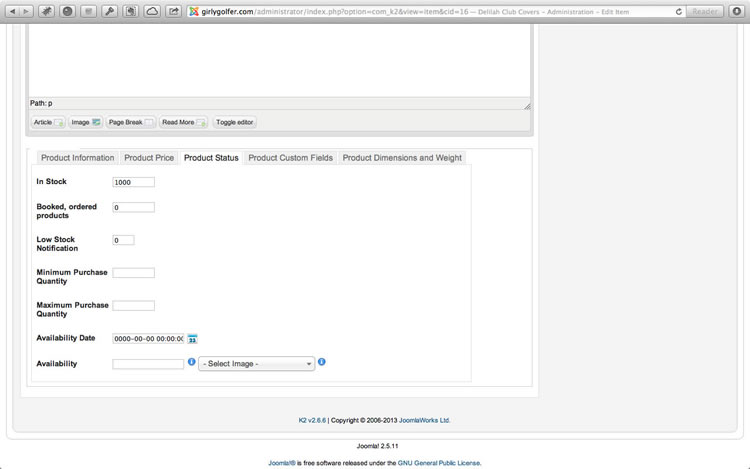 Product Custom Fields Tab
I am skipping this tab for right now. If you have sizes or options you will set these custom fields up in VirtueMart and then add them to this product here. For example, shirt sizes.
Product Dimensions and Weight Tab
This area is shown below. If you are using USPS, UPS or FedEx for shipping you will need to fill out the Length, Width, Height, and Weight. It is up to you on what measurement you use.
If you are including shipping or you are offering free shipping you can skip this tab.