This is a brief tutorial on adding a photo gallery to a K2 item using Simple Image Gallery Pro. This method will add a photo gallery to the bottom of the K2 Item as seen above.
To start out we need to go to our K2 Items: Log into the Joomla Control Panel. Go to Components -> K2 -> Items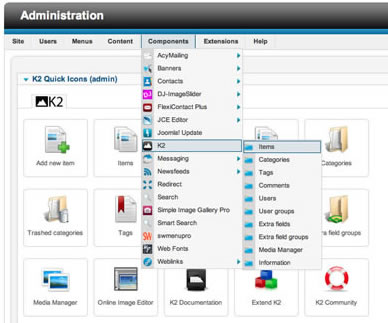 Select an existing Item or add a New Item. Below I added a new item I labeled Test Item.
Above the text editor you will see a row of tabs: Content, Image, Image Gallery, Media, Extra Fields, and Attachments.
We are going to select the "Image Gallery" tab as seen below.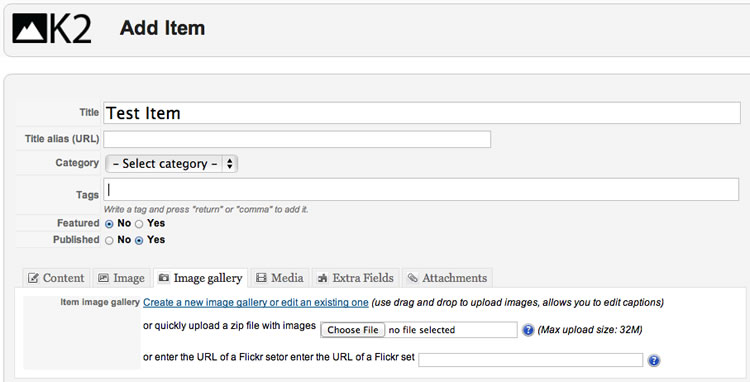 There are 3 options for adding photos to the Image Gallery:
Click "Create a new image gallery or edit an existing one" to upload files. This will only be available if Simple Image Gallery Pro is installed.
Uploading a ZIP file
Entering a URL of a Flickr set.
For this example we are going to use option 1 and click on the link to create a new image gallery.
Once you click you will get a popup for the Simple Image Gallery.
Click on the green "Add Images" and your screen will look like the image below.
Now you can drag images into the area from a explorer or finder window just like you would from folder to folder, or you can click on the green "Add Files" button.
Select your images.
Tip: If you need to select consecutive images, click on the first, hold shift and click on the last. If you need to select multiple images not next to each other, hold down control while you click on each.
Once selected and choosen, click on "Start Upload"
When the images are finished uploading, close the Add Files window, Save and close the Simple Image Gallery window.